"Go therefore and make disciples of all the nations…teaching them to observe all that I commanded you; and lo, I am with you always, even to the end of the age" (Matthew 28:19-20, NASB).
——————–
Contents:
1) The Branch and Root of Jesse (Wayne Goff)
2) Face to Face (R.J. Evans)
3) News & Notes
——————–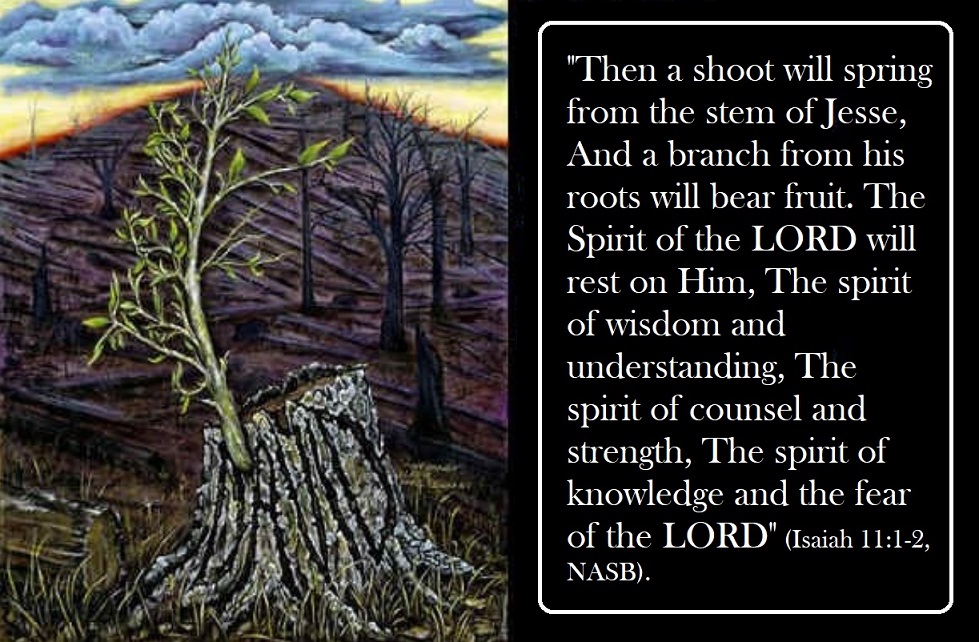 -1-
The Branch and Root of Jesse
Wayne Goff
In the world of the Old Testament, "tree" was often a symbol for royalty. See Ezekiel 17:1ff, especially verses 22-24; Isaiah 2:13; 10:18-19; Jeremiah 22:7, 23 for examples. The kingly lineage of David was interrupted by the Babylonian captivity, and after the return of the Jewish remnant beginning in 536 B.C., there was never a man on the throne of David in Jerusalem again. However, God had promised David that One would come from the fruit of his loins to sit on His throne to rule in righteousness. These prophecies refer, naturally, to Jesus Christ. Notice some of the prophecies.
Nebuchadnezzar
When God interrupted Nebuchadnezzar's reign to humble him with the mind and heart of an animal for a period of time, God promised that He would restore Nebuchadnezzar to his throne. "And inasmuch as they gave the command to leave the stump and roots of the tree, your kingdom shall be assured to you, after you come to know that Heaven rules" (Daniel 4:26). So the symbolism of a stump and roots being left indicating that his kingdom would be restored to him is the same we see in the lineage of David and the kings of Judah.
Jesus Christ
"There shall come forth a Rod from the stem of Jesse, and a Branch shall grow out of his roots" (Isaiah 11:1).
"In that day the Branch of the LORD shall be beautiful and glorious; and the fruit of the earth shall be excellent and appealing for those of Israel who have escaped" (Isaiah 4:2).
"'Behold, the days are coming,' says the LORD, 'That I will raise to David a Branch of righteousness; a King shall reign and prosper, and execute judgment and righteousness in the earth'" (Jeremiah 23:5; see Jer. 33:15).
"Hear, O Joshua, the high priest, you and your companions who sit before you, for they are a wondrous sign; for behold, I am bringing forth My Servant the BRANCH" (Zechariah 3:8).
"Then speak to him, saying, 'Thus says the LORD of hosts, saying: "Behold, the Man whose name is the BRANCH! From His place He shall branch out, and He shall build the temple of the LORD" (Zechariah 6:12).
All of these prophecies indicate that Jesus Christ would be raised up to sit on the throne of His father, David, even after a lapse of over 400 years! Certainly the Jews thought that this "Branch" would be an earthly king, and our religious friends who believe in a future thousand year reign of Christ on the earth believe the same. But the true fulfillment of these prophecies came when Jesus Christ was raised up from the dead, ascended to heaven, and sat down on the throne of God in heaven! We are not left to wonder about this interpretation. The apostles on the day of Pentecost confirmed that Jesus was "the Christ" Who would sit on David's throne (Acts 2:30). In order to do this, Jesus would have to be resurrected from the dead — something David had also prophesied by inspiration (Acts 2:31). Jesus was raised up from the dead, and the apostles were all witnesses of the event (Acts 2:32). Upon His resurrection, Jesus was "exalted to the right hand of God" (Acts 2:33). "Therefore let all the house of Israel know assuredly that God has made this Jesus, whom you crucified, both Lord and Christ" (Acts 2:36). Jesus is Lord with all authority in heaven and on earth (Matthew 28:18). Jesus is the Christ (anointed One) inasmuch as He is Prophet (Lk. 24:19), Priest (Heb. 3:1; 4:14), and King (1 Tim. 6:14-16). His kingdom is not of this world (John 18:36), but is a rule in the hearts of people until the end of time (Lk. 17:21).
— Via Roanridge Reader, Volume 35, Issue 19, Page 3, May 10, 2020

——————–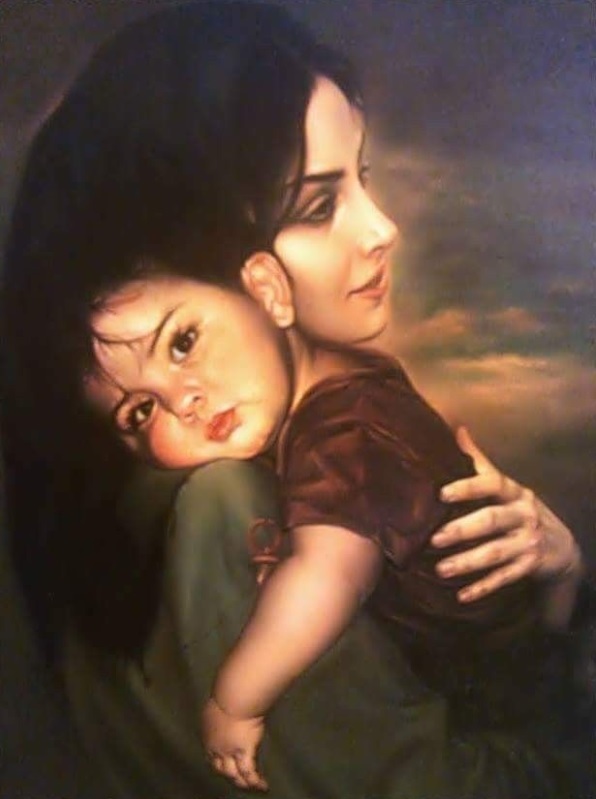 -2-
"FACE TO FACE"
by R.J. Evans

We long for the time when we can "come together in one place" to worship (1 Cor. 11:20; 14:23). Let us all be praying, that if it is God's will, it will be sooner rather than later.

It has been documented that physical contact or touch improves our immune system and also helps reduce diseases associated with the heart and blood. There are many incredible benefits — physical, mental, emotional, and spiritual, that come from a touch. A loving touch is a means of communication, bonding, and good health. That is why we have a natural inclination to shake one another's hand, pat another on the back, or give one another a big hug. Thus, it is understandable why New Testament Christians gave each other a "holy kiss" (Rom. 16:16; 2 Cor. 13:12; 1 Thes. 5:26; 1 Pet. 5:14). After the Apostle Paul had met with the elders of the Ephesian church and was ready to depart, we are told "they fell on Paul's neck and kissed him" (Acts 20:37).

As a result of COVID-19, this terrible pandemic, I have come to a greater appreciation of what the Apostle John said to "the elect lady and her children" and to his "beloved Gaius." Please observe: "Having many things to write to you, I did not wish to do so with paper and ink; but I hope to come to you and speak face to face, that our joy may be full" (2 Jn. 12). "I had many things to write to you with pen and ink; but I hope to see you shortly, and we shall speak face to face" (3 Jn. 13-14).

Phone calls, text messages, emails, Facebook, Zoom, etc., are all great means of communication, but they will never take the place, or be the same as "FACE TO FACE" or person to person contact. I close with the words of Paul to the Thessalonians— "But we, brethren, having been taken away from you for a short time in presence, not in heart, endeavored more eagerly to see your face with great desire" (1 Thes. 2:17).
— from the bulletin of the Southside church of Christ, Gonzales, Louisiana, April 19, 2020
——————–

-3-
News & Notes
Folks to be praying for:

…the family and friends of Andy Berendt who recently passed away.

…Elaine Abbott as she is now back home, following her hospital stay for diverticulitis, and will resume her chemo and hemodialysis treatments this week.

…Joyce Rittenhouse who is in the hospital. She started feeling ill Friday and was running 103° fever last night. After lunch on Saturday, she was taken to the ER by ambulance and remained there until about 11 p.m. when they put her into room 216. She has a kidney stone that is now in her bladder and had become not only infected, but also septic. They have run many tests on her and now have her hooked up to a heart monitor, oxygen, and 2 IVs for fluid. She is feeling somewhat better today than yesterday, but will probably remain hospitalized for the next 3 or 4 days.
…Joyce's brother who was not able to have his heart surgery in Savannah last week because the surgeon there has not yet received the pictures from the CT scan.
…Doyle Rittenhouse who has not had that epidural yet and has been in pain constantly. He will be seeing his doctor June 5.
…Michael Rittenhouse who will be seeing his doctor June 9 to find out more about his present health.

…Bud Montero who will be having a follow-up on June 11 for the procedure he had a couple weeks ago.

…Emily Abbott Cox who is now in about her 37th week of pregnancy, with a due date of June 22, but thinking little Sadie Taylor's arrival might be in the next two weeks.

Let us also continue to remember the following in prayer: Ray Daugherty, Rick Cuthbertson, James Medlock, Rex & Frankie Hadley, A.J. & Pat Joyner, Shirley Davis, John Bladen, the Medlock family, and Kerry Williams.
——————–
The Steps That Lead to Eternal Salvation
1) Hear the gospel, for that is how faith comes (Rom. 10:17; John 20:30-31).
2) Believe in the deity of Jesus Christ (John 8:24; John 3:18).
3) Repent of sins (Luke 13:5; Acts 17:30).
4) Confess faith in Christ (Rom. 10:9-10; Acts 8:36-38).
5) Be baptized in water for the remission of sins (Mark 16:16; Acts 2:38; 22:16; Rom. 6:3-4; Gal. 3:26-27; Col. 2:12; 1 Pet. 3:21).
6) Continue in the faith, living for the Lord; for, if not, salvation can be lost (Matt. 24:13; Heb. 10:36-39; Rev. 2:10; 2 Pet. 2:20-22).
——————–

Tebeau Street
CHURCH OF CHRIST
1402 Tebeau Street, Waycross, GA 31501

We are currently meeting for only our Sunday 10 a.m. worship service each week, due to the coronavirus situation.
evangelist/editor: Tom Edwards (912) 281-9917
Tom@ThomasTEdwards.com
https://thomastedwards.com/wordpress (The new Gospel Observer website)

http://thomastedwards.com/go (older version of the Gospel Observer website, but with bulletins going back to March 4, 1990)

http://tebeaustreetchurchofchrist.org/
http://ThomasTEdwards.com/audioser.html (audio sermons)