"Go therefore and make disciples of all the nations…teaching them to observe all that I commanded you; and lo, I am with you always, even to the end of the age" (Matthew 28:19-20, NASB).
——————–
Contents:
1) Jesus: Our Perfect Example (Earl Kimbrough)
2) News & Notes
——————–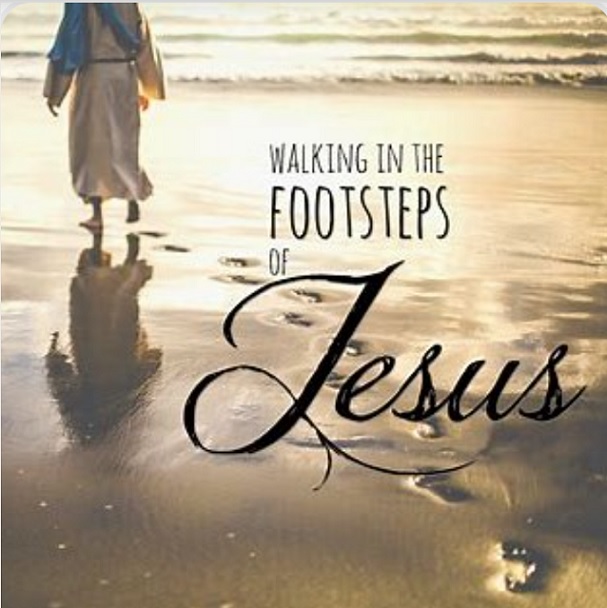 -1-
Jesus: Our Perfect Example
Earl Kimbrough
"For to this you were called, because Christ also suffered for us, leaving us an example, that you should walk in his steps: Who committed no sin, Nor was guile found in His mouth" (1 Pet. 2:21,22).
The word here used for "example" comes from Greek elementary education. It describes the way Greek boys learned to write. The exercise tablet was usually a shallow box filled with soft wax. A student wrote with a sharp stylus that was flat on the opposite end for erasing so the wax could be repeatedly used. The writing master prepared the student's tablet by writing a line at the top to be reproduced by the student and by drawing parallel lines to keep the student's work straight. The master's line at the top was the "pattern" the boy must copy in his own hand in learning to write. Mature skill in handwriting required practice. Peter's words show that Jesus' suffering is not only redemptive. It is also an example that even slaves could imitate in suffering unjust treatment. Jesus as our example suggests four simple facts.
1. Jesus left us the perfect example. He is the perfect "writing copy" we must strive to reproduce in our own life. His sinless perfection is apparent from the couplet quoted from Isaiah 53:9 – "Who committed no sin, Nor was guile found in his mouth."While Peter refers especially to Jesus' perfect example of patience in suffering, Isaiah spoke prophetically of the Lord's absolute freedom from sin, as other writers and the history of Jesus' life show. No other human ever lived without sin. Even the most righteous men are examples to others only as they follow Jesus(1 Cor. 11:1). Jesus lived above sin because he had perfect self-control and because he had a perfect consciousness of God, being fully committed to him in all things.
The figure changes in the second clause ("that you should follow his steps") to that of a guide. Jesus leads by his footprints. He is the perfect example in all that he did and for all we must do in the service of God. He is perfect because "in him there is no sin" (1 Jn. 3:5)and he is our example because he commands us to follow him (Matt. 16:24).
2. Jesus is our example of right conduct. Walking in his steps does not mean that we do so perfectly. We achieve perfection only by the grace and mercy of God through submission to his will(Eph. 2:8-10; Rom. 3:21-26). Nor does it mean that we imitate Jesus in the things he did by virtue of his divine nature, as in receiving the homage of men. Moreover, following him does not require us to do all he did in the service of God. He lived as a Jew under the law of Moses, but we are free from the law(Rom. 7:4).Therefore, we cannot follow him in observing the precepts of Moses. "Indeed I, Paul, say to you that if you become circumcised, Christ will profit you nothing . . . [and] you who attempt to be justified by law; you have fallen from grace" (Gal. 5:1-4). How, then, do we follow the example of Jesus?
(a) We imitate his manner of life. This is seen in the specific example Peter gives. We do not suffer on the cross and we cannot die for the sins of others. But following his manner of suffering unjustly for doing right, we catch his spirit and return love for hate. In his relation to God, Jesus put him first and served him faithfully. In his relation to men, he fulfilled every moral precept of the law perfectly. He was loving, compassionate, and merciful. He was gentle, patient, and kind. He was humble, forgiving, and submissive to his Father's will. "Let this mind be in you which was also in Jesus Christ" (Phil. 2:5). "Take My yoke upon you and learn of Me, for I am gentle and lowly in heart, and you will find rest for your souls" (Matt. 11:29).
(b) We follow Jesus in living by his word. Peter connects the example of Jesus to his role as "the Shepherd and Overseer of your souls" (1 Pet. 2:25).The figurative use of "Shepherd" includes the idea of a teacher. "He will feed his flock like a shepherd" (Isa. 40:11). Jesus is not only our perfect example, he is also our perfect instructor. His teaching can no more be separated from his life than his example. We follow him in both. The latter refers to the teaching he left us in the New Testament (Matt. 19:28; Heb. 2:1-4).
3. Jesus intended for us to walk by his example. "For to this were you called . . . that you should walk in his steps." Christians are called to God's service through the gospel for the purpose of imitating Jesus in their lives. Those who think Christianity consists of anything less than imitating his teaching and example have missed the point. Sinners must understand this when they become Christians. "Therefore we were buried with him through baptism into death, that just as Christ was raised from the dead by the glory of the Father, even so we also should walk in newness of life" (Rom. 6:4). And Christians must never forget this commitment: "Be faithful until death, and I will give you the crown of life" (Rev. 2:10).
4. Jesus' example is more than a perfect pattern. Following him brings the blessings that make us perfect in him. It is in following him that we receive the benefits of his death. "… who himself bore our sins in his own body on the tree, that we, having died to sins, might live for righteousness by whose stripes we were healed" (1 Pet. 2:24). We are saved from the power and punishment of sin when we obey the gospel (Mk. 16:15,16). Our sins are washed away by the blood of Christ when we are baptized into spiritual union with him (Acts 22:16; Rom. 5:9; 6:3,4). It is at this point that we are freed from the dominion of sin. And the hope of being free from the eternal punishment that awaits the unrighteous is a great motivation for us to live "soberly, righteously, and godly in this present world" (Tit. 3:11,14). Jesus not only died to free us from the dominion of sin, but that we might "live for righteousness."
There is another blessing provided by the perfect example of Christ. "For you were like sheep going astray, but have now returned to the Shepherd and Overseer of your souls" (1 Pet. 2:25). The title "Shepherd" seems to identify Jesus with Ezekiel's prophecy: "I will establish one shepherd over them, and he shall feed them – my servant David. He shall feed them and be their shepherd" (Ezek. 34:23). Jesus remains the perfect teacher and example for his people, providing them all things that pertain to life and godliness (2 Pet. 2:1-4). "Overseer" is apparently used here in reference to Jesus' protective oversight of those who walk in his steps. Following the perfect example of Jesus gives us assurance of eternal life.
"Footprints of Jesus,
That make the pathway glow;
We will follow the steps of Jesus,
Where'er they go."
Via the Guardian of Truth XXXVIII, No. 22, p. 1, December 1, 1994
——————–
-2-
News & Notes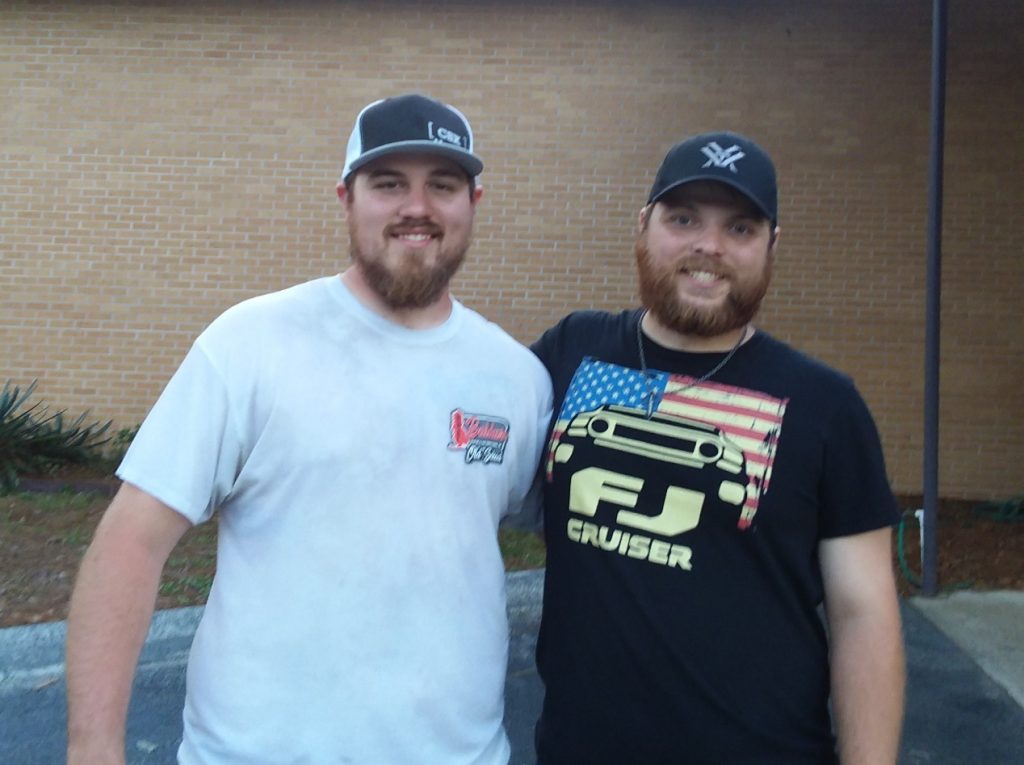 The above picture is of Joshua Richardson (left) and his friend Logan Burnette who both work for CSX and were doing so in Waycross last week. We rejoice that Joshua was baptized into Christ on May 4, 2020 to be forgiven of all the sins he has ever committed throughout his entire life! And, thus, gladly became a Christian, a follower of Jesus Christ. What a great decision and choice Joshua has made! None could be greater nor more important! Let us pray for our new brother in the Lord and thank God for His goodness, His grace, and His mercy in sending His son Jesus Christ to this world to make salvation possible, by His death on the cross, for every sinner who will submit to God's plan for redemption. How truly wonderful our God is! And how great His love is for each of us!
Here is a short video of Joshua's baptism: https://thomastedwards.com/baptism_of_Josh_Richardson_050420.mp4
*****
May 3 update on Andy Berendt by his daughter Heather:

"Heather here…my mother wanted me to post to ask for some prayers again.

"My father is getting good care at the hospital and we are thankful that he is there and that they are doing a wonderful job for him. They are trying to get him well enough to get out of the hospital and back onto his treatments for the cancer.

"He is not going to be released until his infection is gone (or at least stable). So please pray that they will be able to get his infection under control and get his white blood cell count numbers down. Maybe other things are looking good for him but that is the most pressing prayer need we have now. Thank you!"
*****
Other folks to also be praying for:
Elaine Abbott (Jonathan's mother) continues chemotherapy once a week and hemodialysis 3 times a week.
Bud Montero completed his 5 days of treatment Friday. He is feeling well and thankful to all for their prayers.
As mentioned last week, James Medlock's condition of Alzheimer has become worse. He had fallen 3 times in about 3 weeks and now cannot walk. Sundown syndrome had also been hindering him from sleeping.
It was also a couple weeks ago when Ray Daugherty (Jim Lively's brother-in-law) had a stroke, but is gradually healing.
Emily Abbott Cox is now in almost her 34th week of pregnancy.
It was reported last Monday that Michael Rittenhouse has a growth in his lung that about 3 weeks ago had doubled in size in just a few days. We have not yet heard the results from the recent testing, but are praying that all will go well.
Let us continue to also remember the following in prayer: Rick Cuthbertson, Ann Vandevander, Jim Lively, Rex & Frankie Hadley, Kelly Stoneheart, A.J. & Pat Joyner, Doyle & Joyce Rittenhouse, Shirley Davis, John Bladen, the Medlock family, and Kerry Williams.
No new sicknesses have been reported among us. We have tentatively planned to have just one service a week for a while — our worship service at 10 a.m. — and begin that on May 24. But the men will have a business meeting on the 20th to see if we are still going to go ahead with that.
——————–
The Steps That Lead to Eternal Salvation
1) Hear the gospel, for that is how faith comes (Rom. 10:17; John 20:30-31).
2) Believe in the deity of Jesus Christ (John 8:24; John 3:18).
3) Repent of sins (Luke 13:5; Acts 17:30).
4) Confess faith in Christ (Rom. 10:9-10; Acts 8:36-38).
5) Be baptized in water for the remission of sins (Mark 16:16; Acts 2:38; 22:16; Rom. 6:3-4; Gal. 3:26-27; 1 Pet. 3:21).
6) Continue in the faith, living for the Lord; for, if not, salvation can be lost (Heb. 10:36-39; Rev. 2:10; 2 Pet. 2:20-22).
——————–

Tebeau Street
CHURCH OF CHRIST
1402 Tebeau Street, Waycross, GA 31501

The following services are all cancelled until further notice:

Sunday services: 9:00 a.m. (Bible class); 10 a.m. & 5 p.m. (worship)
Wednesday: 7 p.m. (Bible class)

evangelist/editor: Tom Edwards (912) 281-9917
Tom@ThomasTEdwards.com
http://thomastedwards.com/go (Older version of the Gospel Observer website, but with bulletins going back to March 4, 1990)
http://ThomasTEdwards.com/audioser.html (audio sermons)