"Go therefore and make disciples of all the nations…teaching them to observe all that I commanded you; and lo, I am with you always, even to the end of the age" (Matthew 28:19-20, NASB).
——————–
Contents:

1) From Confusion to Peace (Kyle Pope)
2) Did The Church Come Together For A Common Meal in Acts 20? (Greg Gwin)
2) News & Notes
——————–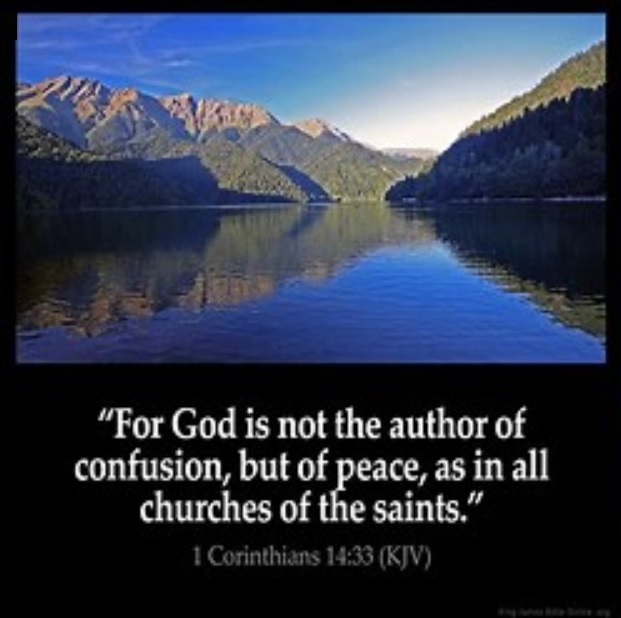 -1-
From Confusion to Peace
Kyle Pope

You don't have to look very far in the world around you to see that most people live their lives ruled by a sense of chaos. They might not recognize that this is the case, but if they stopped and honestly looked at their lives from the outside they would have to admit that they are controlled by the ebb and flow of emotions, finances, illness, disaster, or even the desire for pleasure, recognition, glory, or satisfaction. None of us are free from the hardships of life, but the Christian has something to which he or she can cling that the world does not have: a sense of direction.

You see the Bible tells us that as a result of sin entering the world, chaos, corruption, and decay rule the natural world. The preacher in the book of Ecclesiastes declared that "time and chance" plague all things under the sun (Eccl. 9:11). Paul told the Romans that the creation is in "bondage to corruption" (Rom. 8:21). In the Sermon on the Mount, Jesus reminds us that in this world "moth and rust destroy" things which we might hold dear (Matt. 6:19). For Christians, however, there can be a tangible sense of direction that comes from choosing to look beyond the physical world and aim towards a home in heaven with God. In this home, the Bible tells us "neither moth nor rust destroy, and . . . thieves do not break in and steal" (Matt. 6:20, NKJV).

The Christian can also have a sense of direction when it comes to how life ought to be lived. The Christian believes that the Bible is not merely an old book full of interesting stories. The Christian holds that it is actually the revelation of the Spirit of God given to mankind for his guidance and direction. When the Christian submits himself to it's rule, he allows himself to be led by the very mind of God. This is what it means to be "led by the Spirit" (cf. Rom. 8:14; Gal. 5:18). This can be a comforting thing. When a difficulty arises in life and we must choose one way or the other, the Christian's choice is often made ahead of time by the principles of Scripture. He or she doesn't have to worry and fret about what to do—God's word points the way to the best possible choice.

Some might call this a "crutch" and say they would prefer their own freedom of choice. Everyone loves freedom, but who knows better how I should live my life than the very One who made me? David said:

"O Lord, You have searched me and known me.
You know my sitting down and my rising up;
You understand my thought afar off.
You comprehend my path and my lying down, and are acquainted with all my ways" (Ps. 139:1-3).

In addition to this, the Bible reveals that no one is ever truly free. All of us are either "slaves of sin" or we are "slaves of God" (Rom. 6:15-23). Submission to the will of God liberates us from the chaos and destruction that sin holds over our lives.

The Bible tells us that when people choose not to "retain God in their knowledge" they actually come to think about things in ways that are contrary to their very nature. Romans 1:28 speaks of such people as being given over to a "debased mind." In such a state they are described as being "futile in their thoughts" (Rom. 1:21). To the Ephesians, Paul spoke of such people as "having their understanding darkened" and having hearts that are hardened (Eph. 4:18). In such a condition people come to view evil as good and good as evil. When this happens, the result is chaos and confusion.

You see when we come to believe that there is no absolute truth, no moral black and white, no unquestionable values, then nothing is right, everything is grey and there is no truth! The world we see around us is a perfect example of this. We claim to be so advanced as we throw out traditional values of the past. For the cause of freedom, we reject family roles, marriage bonds, personal responsibilities, modesty, and moderation, then wonder why our lives are in chaos. You see God's instructions are not simply to satisfy His own wishes, they are "for our good always, that He might preserve us" (Deut. 6:24).

Near the close of his first epistle to the church in Corinth the apostle Paul through the direction of the Holy Spirit gives instructions about conduct in the assembly. In the midst of this discussion he makes a powerful statement. He writes, " . . . For God is not the author of confusion but of peace" (1 Cor. 14:33). What a beautiful thought! In the midst of a universe of chaos, in Christ there can be peace. James will tell us through the Holy Spirit, "where envy and self-seeking exist, confusion and every evil thing will be there. But the wisdom that is from above is first pure, then peaceable, willing to yield, full of mercy and good fruits . . . " (Jas. 3:16-17).

Where do you find your life? Are you in submission to the will of God? Do you find in God peace and a wisdom that lifts you out of the chaos and confusion of this world, or do you try to live with one foot in the madness and the other in the truth? Paul challenged the brethren in Colosse to "let the peace of God rule in your hearts" (Col. 3:15). Only in Christ can you find that "peace which surpasses all understanding" (Phil. 4:7). The choice is yours, but God calls you out of confusion into true and lasting peace.

— Via Focus Online, July 16, 2020
——————–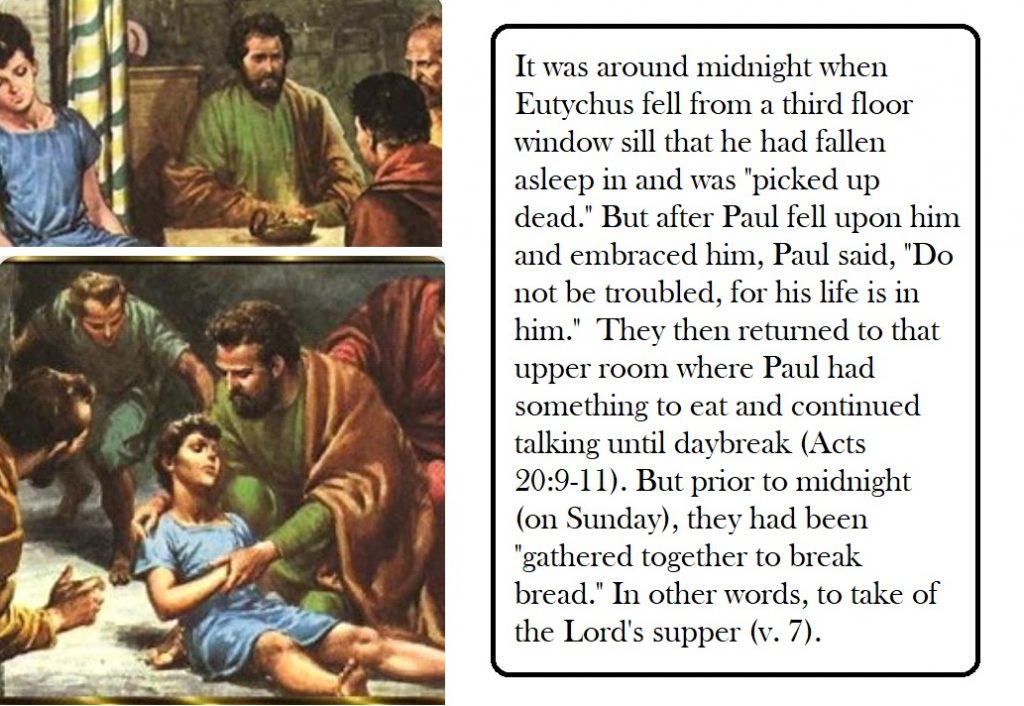 -2-
Did The Church Come Together For A Common Meal in Acts 20?
Greg Gwin

A question has been asked about 'eating' in Acts 20:6-11:

"And we sailed away from Philippi after the days of unleavened bread, and came unto them to Troas in five days; where we abode seven days. And upon the first day of the week, when the disciples came together to break bread, Paul preached unto them, ready to depart on the morrow; and continued his speech until midnight. And there were many lights in the upper chamber, where they were gathered together. And there sat in a window a certain young man named Eutychus, being fallen into a deep sleep: and as Paul was long preaching, he sunk down with sleep, and fell down from the third loft, and was taken up dead. And Paul went down, and fell on him, and embracing him said, Trouble not yourselves; for his life is in him. When he therefore was come up again, and had broken bread, and eaten, and talked a long while, even till break of day, so he departed."

We have emphasized two instances of "breaking bread" in the text. This expression is an idiom that can have reference to either a common meal (as in Acts 2:46) or the Lord's Supper (as in Acts 2:42, 1 Cor. 10:16; 1 Cor. 11:23-26).

We believe the first reference in Acts 20 is in regards to the Lord's Supper. We reach this conclusion because:

– The context implies that Paul waited in the city of Troas for seven days in order to be present at this assembly. Why wait if this were a common meal that could have been eaten on any day of the week?

– The disciples had specifically come together for the purpose of this 'breaking of bread.' But Paul had previously condemned the concept of a church coming together for the eating of common meals (1 Cor. 11:20-22,34). Paul would not have violated his own teaching in this matter, and therefore this must have been referring to the Lord's Supper.

But, what about the second occurrence of "breaking bread" in Acts 20 (verse 11)? Here we conclude that the meaning is of a common meal, because:

– The assembly had already been broken up because of the death and miraculous revival of Eutychus.

– The timing of this 'eating' was at sometime after midnight (vs. 7) and thus, by either Roman or Hebrew timekeeping, would have been on Monday, not Sunday.

– The meeting of the church, now dismissed, had likely occurred in a private home where common food stuffs would have been available for those who normally lived there and their guests.

– Paul did this without violating the previously mentioned prohibition on the church 'coming together' to eat common meals (1Cor. 11:20-22,34).

– And, Paul is the only one mentioned who consumed the food (vs. 11). This was in anticipation of his leaving the city within a matter of hours to continue his journey. It would be impossible to prove that any other person ate a single morsel of food, and therefore impossible to use this text to demonstrate that the whole church was involved in eating a common meal as an official or sponsored activity of the collective body.

— Via The Beacon, June 28, 2020
——————–

-3-
News & Notes
Folks to be praying for:
Penny Medlock, who had been hospitalized in Valdosta for 7 days, was taken from there to the ICU in Waycross late Saturday night, due to having tested positive for covid-19 and having trouble breathing.

Anita Young has requested prayer for her elderly parents: Rex Hadley's test results came back positive last Monday for covid-19. He has been sick for several days, but is showing a little improvement today. Also pray for his wife Frankie, who has been in poor health for a long time, that she does not also come down with it.
Pat Joyner would like prayer for her brother-in-law Larry Hood. She writes, "He has Crohn's disease, cancer near his eye, 4 spinal fractures, in massive pain. Doctors will make a decision on the 21st as what to do for some of his health challenges. He was a preacher for 30 years. Then he taught school. He is now 85 years old. "Prayers of a righteous man meaneth much." Pat also mentions her 83-year old sister Janice (Larry's wife) who has Trigeminal neuralgia and other health issues. (Trigeminal neuralgia is a chronic facial pain that can act up from just chewing, speaking, brushing one's teeth, putting on makeup, or even any other mild stimulation to the face. And in Janice's case, it also includes just putting her hand near her face without evening touching it that will cause pain.)

A.J. Joyner is starting to have peripheral neuropathy. He also has stomach problems. His wife Pat has numerous health issues, including COPD and scarring of the lungs called Atelectasis. They are both elderly and having to be very isolated for precautionary measures.
Joyce Rittenhouse's brother continues to heal from the major heart surgery he recently had.  He has now gone two days without a headache, but is still a little unsteady on his feet.  He will be having a blood test tomorrow to see if it is still too thick.

Deborah Medlock had her pre-op Tuesday, but was not told when the actual surgery will be.  Initially, it was planned for the 31st; but that now needs to be changed to another day, which she will find out Tuesday.

Ginger Ann Montero finally was able to receive a shot for the pain she has been having in her arm, but it has given her only little relief.

Doyle Rittenhouse saw his doctor Monday.   Joyce writes that Doyle "will be getting two shots in his back Wednesday.  Right now he is having trouble with gout in both feet and his sugars are running a little high."

Rick Cuthbertson is now receiving a new kind of cancer treatment.

Let us also continue to remember the following in prayer:  Jamie Cates, Tim Kirkland, Elaine Abbott, Ray Daugherty,  Jim Lively, and Shirley Davis
  ——————–
The Steps That Lead to Eternal Salvation
1) Hear the gospel, for that is how faith comes (Rom. 10:17; John 20:30-31).
2) Believe in the deity of Jesus Christ (John 8:24; John 3:18).
3) Repent of sins (Luke 13:5; Acts 17:30).
4) Confess faith in Christ (Rom. 10:9-10; Acts 8:36-38).
5) Be baptized in water for the remission of sins (Mark 16:16; Acts 2:38; 22:16; Rom. 6:3-4; Gal. 3:26-27; Col. 2:12; 1 Pet. 3:21).
6) Continue in the faith, living for the Lord; for, if not, salvation can be lost (Matt. 24:13; Heb. 10:36-39; Rev. 2:10; 2 Pet. 2:20-22).
——————–

Tebeau Street
CHURCH OF CHRIST
1402 Tebeau Street, Waycross, GA 31501

We are currently meeting for only our Sunday 10 a.m. worship service each week, due to the coronavirus situation.

evangelist/editor: Tom Edwards (912) 281-9917

Tom@ThomasTEdwards.com
http://thomastedwards.com/go (older version of the Gospel Observer website, but with bulletins going back to March 4, 1990)