"Go therefore and make disciples of all the nations…teaching them to observe all that I commanded you; and lo, I am with you always, even to the end of the age" (Matthew 28:19-20, NASB).
——————–
Contents:

1) Melchizedek and Christ (Warren E. Berkley)
2) Prayer (video sermon, Tom Edwards)
3) News & Notes
——————–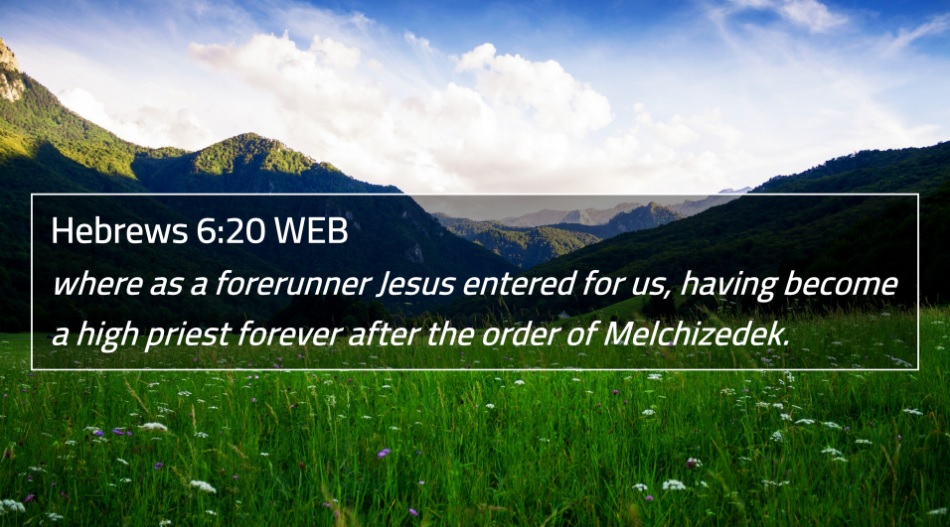 -1-
Melchizedek and Christ
Warren E. Berkley

Synopsis: Warren describes Melchizedek's encounter with Abraham and demonstrates how this king/priest of Salem foreshadows One even greater (who serves as our Prophet, Priest, and King).

It is hard for me to imagine a day in the life of Abraham. Yet, as I read the Genesis account, accompanied by all other biblical references to the patriarch, I can gain insights into his unique role in God's plan. However, the account given by Moses in Genesis 14:17-24 is at first a mystery; a mystery solved by the writer of Hebrews. That "solution," or meaning, relates directly to my assurance of access to God. In the course of studying this mysterious man, the Holy Spirit takes us to two simple words which express what we should do about all this. I will take us to those two words.

One day, Abraham led 318 trained men in pursuit of adversaries who had taken Lot captive. After his defeat of the rebel forces, he returned home and "Melchizedek, king of Salem brought out bread and wine. (He was priest of God Most High.)." This man is not mentioned before this account, thus the reader's immediate puzzle: no family connection is documented, nor any genealogy or history.

He spoke to Abraham: "Blessed be Abram by God Most High, Possessor of heaven and earth; and blessed be God Most High, who has delivered your enemies into your hand!" His favorable words to Abraham still leave the reader with a blank. Who is this man? What is this all about?

Abraham's response does not really answer our questions: "And Abram gave him a tenth of everything." If we had nothing but this brief narrative in Genesis, we would know nothing more of this today.

Much later in the literary sequence of the Old Testament, a hint that only adds to our curiosity: "The Lord has sworn and will not change his mind, 'You are a priest forever after the order of Melchizedek'" (Ps. 110:4). The context of the 110th Psalm is Messianic, having to do with the Christ, but our questions are not fully answered. What is the connection between "the order of Melchizedek" and Christ? No clarity emerges from the psalm, leaving us with no resolution.

Our curiosity remains into the New Testament. No answers come from the pages of Matthew, Mark, Luke, or John. Finally, in Hebrews, the writer says he wants to speak to this mystery, but is concerned that his readers are "dull of hearing" (Heb. 5:5-11). The opening verses of Hebrews 6 take off in a different direction, having to do with the urgency of spiritual growth.

Our patience begins to pay off at the end of Hebrews 6. The affirmation is that Jesus Christ "became a High Priest forever after the order of Melchizedek."
But What Does that Mean?
Hebrews chapter seven reveals the meaning of this. After a brief review of the Genesis 14 event, it is said of Melchizedek, "He is without father or mother or genealogy, having neither beginning of days nor end of life, but resembling the Son of God, he continues a priest forever" (Heb. 7:3).

Factoring in context has great value here. The historical premise of Judaism was: the Levitical priesthood was the supreme and final priestly system that afforded access to God for Jews. The Hebrew epistle upholds that "we have a great High Priest who has passed through the heavens, Jesus, the Son of God," and Christians "hold fast" to this confession (Heb. 4:14).

The inspired writer in Hebrews 7 is asking his readers to consider that God had a priest-king before the Levitical system was instituted. The order of Melchizedek was a higher priesthood than the Levitical system. That is implied in that Abraham paid tithes to Melchizedek.

"Giving a tithe was a gesture that honored the recipient, and it thus implied that the recipient was of a higher status or position in some sense. This surely signals that Abraham believed he was in the presence of a great person who deserved to be honored with treasures" (McClister, 238).

We have now taken a step toward understanding this mysterious person and event. God set up something prior to the Levitical system that held higher status. Christ was High Priest after that order, or "like Melchizedek."
To Whom Did Melchizedek Belong?
There is no record of his mother, father, or a documented genealogy with a date of birth and death. Melchizedek is portrayed as belonging to God, the "Most High," and is associated with peace and righteousness. Jesus is High Priest like Melchizedek, not of the tribe of Levi, but superior to that system.

This means Christ was not a High Priest, as in Aaron and the Levitical order (according to the law of Moses). The High Priesthood of Jesus Christ—the writer is affirming—is of a higher order! Christ was and is a High Priest like Melchizedek; not like Aaron or Levi.
Note the following:
1. Melchizedek's position as High Priest was not dependent on ancestry… neither was Christ's (7:14).

2. Melchizedek was not in a succession of many priests . . . neither is Christ (7:3).

3. Melchizedek's priesthood was higher than, and separate from, the Levitical order . . . so is Christ's (7:4-7).

4. Melchizedek was priest and king . . . so is Christ! (See Zech. 6:9-10).
Christ's Character
Another element in the Melchizedek narrative is a foreshadowing of Christ's character. These words are associated with Melchizedek: "Righteous," "Priest," "Peace" and "King." Our High Priest is perfectly righteous, brings peace to those who respond to the gospel, and is the ultimate "King of kings and Lord of lords." Melchizedek was a priest-king. This was impossible under the Levitical standards. As to Jesus, the prophet said: "…it is He who will build the temple of the Lord, and He who will bear the honor and sit and rule on His throne. Thus, He will be a priest on His throne, and the counsel of peace will be between the two offices" (Zech. 6:13, NASB).

Robert Turner provides an excellent summary of how the Hebrew passage solves the puzzle and makes the Melchizedek narrative practical:
The Hebrew writer's applications are: (1) this superiority calls for a change of priests (v. 11); and (2) that necessitates a change of law (v. 12). Jesus was of the tribe of Judah and could not be an Aaronic priest (vv. 13-14); but like Melchizedek; (3) His position does not depend on a temporary covenant, but on an "endless life" (vv. 15-17); (4) He offers better hope of drawing nigh to God (vv. 18-19); (5) He was made Priest with an oath of God (vv. 20-21); hence is, (6) surety of a better testament (v. 22); (7) Aaronic priests died and had to be replaced, but Christ "ever liveth to make intercession" (vv. 23-25); (8) Unlike sinful priests who must offer for their own sins, this High Priest is holy and undefiled (vv. 26-27); (9) He offered the perfect sacrifice (v. 27), and (10) is consecrated for evermore (v. 28).

There are broader effects of Christ as High Priest after the order of Melchizedek. If we claim Him as our present High Priest, we must recognize His present Kingship (Zech. 6:12-13). This demands a spiritual, not an earthly, kingdom (Col. 1:13). All saints compose His "holy" and "royal" priesthood (1 Pet. 2:5, 9) with direct access to the throne of God through Him (Heb. 4:14-16) (Turner, 20).
Now, having the facts above well-discovered, what am I to do with this? How do we take this data, this argument, and make it practical in our lives? There are two words in the course of the Hebrew exposition of Melchizedek. These two words express what all of this means to us, found in Hebrews 5:9. Jesus, our great High Priest, "being made perfect… became the source of eternal salvation to all who obey Him." Two words: Obey Him!
Sources:
McClister, David. A Commentary on Hebrews. Temple Terrace, FL: Florida College Press, 2010.

Turner, R. F. "Christ's 'Melchizedek' Priesthood." Christianity Magazine 8.12 (Dec. 1991) 20.

Author Bio: Warren has worked with the Laurel Heights church of Christ in McAllen, Texas for 28 years. He and his wife, Paula, have three children, and eight grandchildren. His website is warrenberkley.com. He can be reached at warren@warrenberkley.com.

— Via Truth Magazine, No. 4, Volume 62, April 2018
https://truthmagazine.com/kindle/2018/2018-04-apr/08_Monthly_Theme_Lesson_04.htm

——————–
-2-
Prayer
Tom Edwards

For the video sermon with the above title, just click on this following link:

https://thomastedwards.com/wordpress/Prayer_050122.mp4

——————–

-3-
News & Notes
Folks to remember in prayer, due to their health:

Rex Hadley, June Peters, Alex Cornelius, Rick Cuthbertson, A.J. & Pat Joyner, Donald Sears, Ronnie Davis, Myrna Jordan, Jim Lively, Doyle Rittenhouse, Tammy Griffey, Deborah Medlock, Lois Fletcher, Vivian Foster, Danielle Bartlett, Kayla Williams, and Kim Rowell.

Today at 5 p.m. we will be having our first-Sunday-of-the-month song service. Let us each be there to make a joyful noise unto the Lord and build one another up with spiritual songs! (Eph. 5:19; Col. 3:16)
——————–
The Steps That Lead to Eternal Salvation
1) Hear the gospel — for that is how faith comes (Rom. 10:17; John 20:30-31).

2) Believe in the deity of Jesus Christ, the Son of God (John 8:24; John 3:18).

3) Repent of sins. For every accountable person has sinned (Romans 3:23; Romans 3:10), which causes one to be spiritually dead (Ephesians 2:1) and separated from God (Isaiah 59:1-2; Romans 6:23). Therefore, repentance of sin is necessary (Luke 13:5; Acts 17:30). For whether the sin seems great or small, there will still be the same penalty for either (Matt. 12:36-37; 2 Cor. 5:10) — and even for a lie (Rev. 21:8).

4) Confess faith in Christ (Rom. 10:9-10; Acts 8:36-38).

5) Be baptized in water for the remission of sins (Mark 16:16; Acts 2:38; 22:16; 1 Pet. 3:21). This is the final step that puts one into Christ (Gal. 3:26-27). For from that baptism, one is then raised as a new creature (2 Cor. 5:17), having all sins forgiven and beginning a new life as a Christian (Rom. 6:3-4). For the one being baptized does so "through faith in the working of God" (Col. 2:12). In other words, believing that God will keep His word and forgive after one submits to these necessary steps. And now as a Christian, we then need to…

6) Continue in the faith by living for the Lord; for, if not, salvation can be lost (Matt. 24:13; Heb. 10:36-39; Rev. 2:10; 2 Pet. 2:20-22).
——————–
Tebeau Street
CHURCH OF CHRIST
1402 Tebeau Street, Waycross, GA 31501

Sunday: 9 a.m. Bible Class and 10 a.m. Worship Service. We also have a Song Service at 5 p.m. for every first Sunday of the month.
We will resume our Wednesday class on June 1, 2022 at 7 p.m.

evangelist/editor: Tom Edwards (912) 281-9917
Tom@ThomasTEdwards.com

https://thomastedwards.com/go/all.htm (This is a link to the older version of the Gospel Observer website, but with bulletins going back to March 4, 1990.)