"Go therefore and make disciples of all the nations…teaching them to observe all that I commanded you; and lo, I am with you always, even to the end of the age" (Matthew 28:19-20, NASB).
——————–
Contents:

1) Love — The More Excellent Way (Heath Rogers)
2) Leave the Solution to God (Frank Himmel)
——————–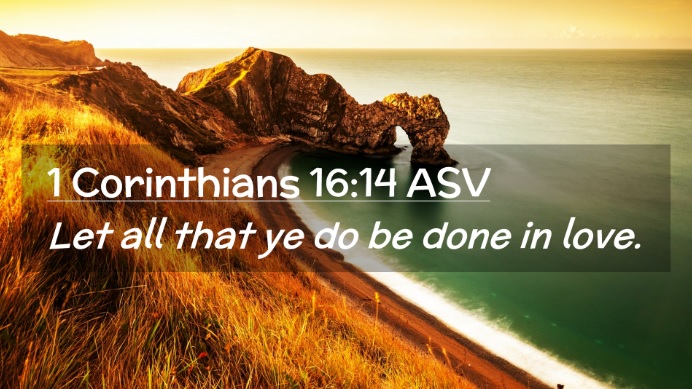 -1-
Love — The More Excellent Way
Heath Rogers

First Corinthians thirteen is a favorite chapter of the Bible to many people. Perhaps its appeal lies in the fact that, in just a few verses, the Holy Spirit is able to do what no poet, professor, or philosopher has been able to do throughout all of human history — give man an accurate and complete understanding of what it means to love.

Verses 4-7 provide a list of fifteen characteristics of love. As one progresses through this list, he gains a better understanding of love and can come to understand why it is the greatest gift that man can possess. Unless otherwise noted, quotations are from the New King James version.

Love suffers long: This characteristic emphasizes patience with others. It is translated from the Greek word makrothumeo. This is actually a compound word: makros meaning "long," and thumos which means "temper." Thus, the person who is longsuffering is literally the individual who has a long-burning fuse. It describes the man who has the power to retaliate when he is wronged, but has the presence of mind and strength of character to hold his anger in check.

and is kind: The term in the original language literally means to show oneself "useful"; the carrying out of useful deeds to help others. Love is considerate and always provides what is of value or worth to others.

Kindness is the perfect compliment to longsuffering. While longsuffering is willing to take anything from anyone, kindness is willing to give anything to meet the needs of others.

love does not envy: The New American Standard renders this characteristic as "not jealous." This phrase is translated from a Greek word meaning "to be heated or to boil." This term can have a positive meaning, "to desire earnestly," and a negative meaning, "to envy another." Here, it is used in the negative sense. Love does not cause one to "boil" over the success or advantages of another.

love does not parade itself, is not puffed up: Various versions have translated this phrase differently. For instance, the King James reads "charity vaunteth not itself, is not puffed up," while the New American Standard reads "love does not brag and is not arrogant" (NASV).

The first of these expressions represents the speech or action that is produced by pride, while the second represents the attitude of pride itself. The root word for the first expression in the Greek means "wind bag," while the root for the second means "bellows." Bragging is fed by an arrogant attitude. Love has neither quality. Love is humble, seeking to perform its work without desire for recognition or reward.

does not behave rudely: This phrase is also rendered differently by various translations: "doth not behave itself unseemly" (KJV), "does not act unbecomingly" (NASV). William Barclay translates the phrase as "Love does not behave gracelessly."

The phrase is translated from the Greek word aschemoneo, which literally means to go against the scheme. It refers to the act of going against what is accepted as the norm, to "stick out" or to be inappropriate. An arrogant man, in an effort to promote himself, will forget to treat others with respect and consideration. However, love is mannerly in that it never conducts itself in a way that is contrary to accepted standards of decency.

does not seek its own: This characteristic describes the person who is more concerned with his duties than his rights. Love does not make "self" the center of the universe. Jesus manifested this characteristic of love to the world in that He "did not come to be served, but to serve, and to give His life a ransom for many" (Matt. 20:28).

is not provoked: This characteristic is translated from the Greek work paroxuno which means to spur on, to stimulate, or to stir to anger. This describes the person who has control over his temper. Love does not go around with a chip on its shoulder looking for reasons to become upset or irritated at personal offences.

thinks no evil: The New American Standard renders this phrase as "does not take into account a wrong suffered." This is translated from the Greek word logizomai. This was a bookkeeping term that was used for the act of entering a debt on a ledger so that it would not be forgotten. Love does not keep a running account of offenses against itself with a view towards revenge. With a less technical understanding, love does not dwell upon personal offenses or evil deeds that it has been called upon to endure. Love does not harbor bitterness and resentment. It knows how to forget.
does not rejoice in iniquity: Many people rejoice in sin, either their own sin or the sins of others (Rom. 1:32). Love is active goodwill towards others; sin brings harm and loss to others. As such, the two are opposed to each other. Love is free from the malice that takes pleasure in sin and finds satisfaction in discussing the sins of others.

but rejoices in the truth: Love has the courage to face the truth and to rejoice when the cause of truth, justice, and righteousness is upheld. Love takes pleasure in the truth being taught, defended, and lived (2 John 4; 3 John 3-4).

bears all things: In one sense, love has the strength to bear whatever afflictions or persecutions may personally come upon an individual. However, the meaning of this term in the original language indicates that this quality is shown outwardly as opposed to inwardly. The Greek word means "to protect or preserve by covering." Love will do everything it can to cover the sin and shame of the person who is the object of its affection. "And above all things have fervent love for one another, for 'love will cover a multitude of sins'" (1 Peter 4:8). Love does not ignore sin. It will warn, rebuke, and chasten as needed, but its first impulse will be to protect the object of love.

believes all things: Love is not gullible or naive, but neither is it cynical. Love's first impulse is to give others the benefit of the doubt, believing in them and expecting the best from them.

hopes all things: When things do look bad, love hopes for the best. Instead of putting the worst interpretation on another's actions or motives, love compels us to put the best interpretation upon them.

endures all things: Even when it has been proven wrong, love does not give up. It stands up and continues onward against all odds.

The New International Version renders verse seven as "It always protects, always trusts, always hopes, always perseveres." These four statements form a progression. Love bears or protects the one who it believes in. When the evidence suggests otherwise, love will continue to hope for the best. Even if love is brought to the point of personal injury, it will continue to endure.

Love never fails: This phrase is found at the beginning of verse eight, which begins another section in chapter thirteen. However, I personally like to join it to the fifteen characteristic found in verses 4-7. Love is the greatest gift because it is permanent. It will never fail.
This great chapter can be studied for a lifetime and yet it will never cease to challenge those who desire to be like their Master. May we turn our attention to it more often and take the time to consider the standard that it sets for our lives. "Jesus said to him, 'You shall love the Lord your God with all your heart, with all your soul, and with all your mind.' This is the first and great commandment. And the second is like it: 'You shall love your neighbor as yourself'" (Matt. 22:37-39).

— Via Articles from the Knollwood church of Christ, March 2012
——————–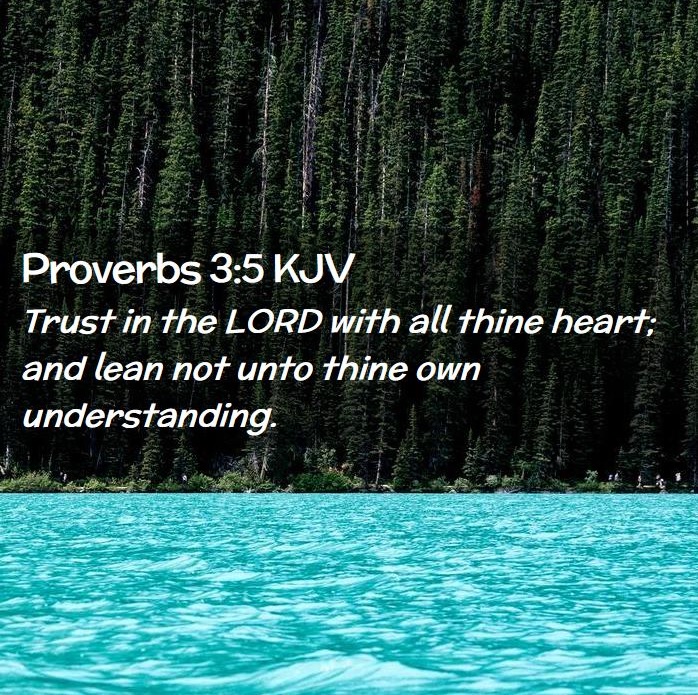 -2-
Leave the Solution to God
Frank Himmel

Paul observed that we do not know how to pray as we should (Romans 8:26). That being true, we can learn a valuable lesson from the apostles.

When Peter healed a lame man at the temple, it provided occasion for the second recorded gospel sermon (Acts 3). That sermon ended when the temple guards arrived to arrest Peter and John. A night in jail was followed by a day in court. But filled with the Holy Spirit, the accused became the prosecutors. Peter charged the court with having crucified Jesus, and in so doing rejecting the very cornerstone of God's building. He added that Jesus is the only means of salvation.

The judges were taken aback. They marveled at Peter and John's boldness. They doubtless were tempted to respond severely, but the presence in court of the man who had been healed and public interest in the case left them few options. The court decided on a "cease and desist" order: the apostles were not to speak at all in the name of Jesus. After further threatening, they were released.

Peter and John went to their brethren. Together they prayed about the situation (Acts 4:24-30). The prayer first addressed God the creator, who has all power. It then recognized His foreknowledge and rule. When this same court, along with Herod and Pilate, had done their worst—when they crucified Jesus—they had done nothing more than what God's hand and purpose predestined to occur.

Now it was time for the apostles' request. "And now, Lord, take note of their threats, and grant that Your bond-servants may speak Your word with all confidence" (v. 29). Rather than telling God what to do about the problem, they simply prayed that He would take note of it. They left it to Him as to how best to deal with it. And they asked for strength.

One of the benefits of praying to an all-wise God is knowing that He will do what is best. We don't need to tell Him how to solve our problems. Just bring them before Him and pray for strength. Then leave His throne, confident that He will do what is best.

— Via Pathlights, January 2, 2022
——————–
The Steps That Lead to Eternal Salvation
1) Hear the gospel — for that is how faith comes (Rom. 10:17; John 20:30-31).

2) Believe in the deity of Jesus Christ, the Son of God (John 8:24; John 3:18).

3) Repent of sins. For every accountable person has sinned (Romans 3:23; Romans 3:10), which causes one to be spiritually dead (Ephesians 2:1) and separated from God (Isaiah 59:1-2; Romans 6:23). Therefore, repentance of sin is necessary (Luke 13:5; Acts 17:30). For whether the sin seems great or small, there will still be the same penalty for either (Matt. 12:36-37; 2 Cor. 5:10) — and even for a lie (Rev. 21:8).

4) Confess faith in Christ (Rom. 10:9-10; Acts 8:36-38).

5) Be baptized in water for the remission of sins (Mark 16:16; Acts 2:38; 22:16; 1 Pet. 3:21). This is the final step that puts one into Christ (Gal. 3:26-27). For from that baptism, one is then raised as a new creature (2 Cor. 5:17), having all sins forgiven and beginning a new life as a Christian (Rom. 6:3-4). For the one being baptized does so "through faith in the working of God" (Col. 2:12). In other words, believing that God will keep His word and forgive after one submits to these necessary steps. And now as a Christian, we then need to…

6) Continue in the faith by living for the Lord; for, if not, salvation can be lost (Matt. 24:13; Heb. 10:36-39; Rev. 2:10; 2 Pet. 2:20-22).
——————–
Tebeau Street
CHURCH OF CHRIST
1402 Tebeau Street, Waycross, GA 31501
Sunday: 9 a.m. Bible Classesand 10 a.m. Worship Service. We also have a Song Service at 5 p.m. for every first Sunday of the month.
Wednesday: 7 p.m. for Bible Classes
evangelist/editor: Tom Edwards (912) 281-9917
Tom@ThomasTEdwards.com

https://thomastedwards.com/go/all.htm (This is a link to the older version of the Gospel Observer website, but with bulletins going back to March 4, 1990.)