"Go therefore and make disciples of all the nations…teaching them to observe all that I commanded you; and lo, I am with you always, even to the end of the age" (Matthew 28:19-20, NASB).
——————–
Contents:

1) I Am Resolved: To Study (David Dann)
2) Sword Tips #31 (Joe R. Price)
——————–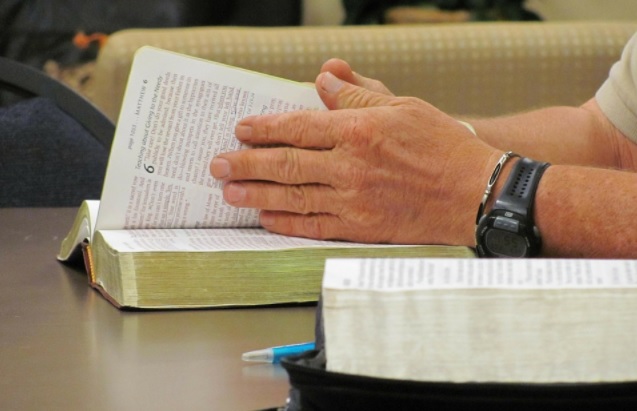 -1-
I Am Resolved: To Study
David Dann

Synopsis: David challenges each of us: "Will you make up your mind to search the Scriptures daily so that you can become what God would have you to be?"
——————–

The psalmist writes, "The works of the Lord are great, studied by all who have pleasure in them" (Ps. 111:2). Our English word "study" is defined as: "to read in detail especially with the intention of learning" (Merriam-Webster). More than just reading, study involves properly understanding and learning from what you read. It may require looking up the definitions of words that appear in the text, pausing to define concepts, asking questions, and finding the right answers to those questions as we read a passage.

True study of God's word involves reading, pondering, and seeking to understand and apply what we've read (Ps. 119:148). Ezra studied the Scriptures so that he would be prepared to do the will of God and help others to do the will of God (Ezra 7:10). Excuses for failing to follow Ezra's example range from, "I don't have time," to, "I always forget to do it," to, "I just don't like to read." Please consider the following reasons as to why we must put away such excuses and resolve to make personal Bible study a daily habit.
It Will Increase Your Knowledge
The apostle Peter wrote to those who had already become Christians, saying, "But also for this very reason, giving all diligence, add to your faith virtue, to virtue knowledge" (2 Pet. 1:5). Peter also exhorts Christians to "grow in the grace and knowledge of our Lord and Savior Jesus Christ" (3:18). The only way we can grow and increase in spiritual knowledge is by taking the word of God into our hearts and minds, and the only way we can know the truth is to abide in the Lord's word (John 8:31-32). We are constantly bombarded with lies about religious matters, morality, and man's origin, along with the lie that there is no such thing as absolute truth, and that all beliefs need to be treated as though they have equal value. How will you know what to believe and what to follow?

God's word is truth (John 17:17). Spending time in God's word will keep us from having our thinking shaped by false teachers, deceivers, and godless philosophers. When Paul preached to the Bereans, the Bible says, "These were more fair-minded than those in Thessalonica, in that they received the word with all readiness, and searched the Scriptures daily to find out whether these things were so" (Acts 17:11). Each of us needs to search the Scriptures daily so that we know the truth and so that we can see the difference between truth and error.
It Will Spiritually Strengthen You
Paul writes that his prayer to God for the Ephesian Christians was "that He would grant you, according to the riches of His glory, to be strengthened with might through His Spirit in the inner man" (Eph. 3:16). We can be strengthened and built up in the inner man by taking God's word into our minds and hearts (Acts 20:32). God's word is able to build up and strengthen us so that we remain faithful to the Lord; yet, for this strengthening to take place, we have to read, study, and apply it. It is important to be reminded that only the faithful will be rewarded with a home in heaven (Rev. 2:10). Since the temptation to turn back from following the Lord or to engage in sin is always present, the study of God's word is needed to defeat the fiery darts of the devil. Along these lines, the psalmist spoke to God, saying, "Your word I have hidden in my heart, that I might not sin against You!" (Ps. 119:11). Each of us needs to study the Scriptures daily so that we can be strengthened to overcome in the battle against temptation, sin, and error.
It Will Help You to Grow
In his letter to the saints in Rome, Paul writes, "So then faith comes by hearing, and hearing by the word of God" (Rom. 10:17). Our faith grows as we read, study, and apply God's word in our lives. Peter instructs Christians to "desire the pure milk of the word, that you may grow thereby" (1 Pet. 2:2). A Christian who lacks desire for the word of God is one who is spiritually dying. The Lord maintains a relationship with those who put forth the effort to learn and follow His word (John 14:23-24). If you want God to draw near to you, then you need to spend time drawing near to Him by reading and learning from His word (Jas. 4:7). Each of us needs to study the Scriptures daily so that we can develop a deeper faith and a closer relationship with God.
It Will Equip You to Serve
The life of a Christian is a life of service to the King of kings in which we do those things that are pleasing to Him. Paul instructed Titus, saying, "This is a faithful saying, and these things I want you to affirm constantly, that those who have believed in God should be careful to maintain good works. These things are good and profitable to men" (Titus 3:8). We are to constantly serve the Lord by maintaining the good works in our lives that God would have us to do. How do we know what those good works are? Paul writes, "All Scripture is given by inspiration of God, and is profitable for doctrine, for reproof, for correction, for instruction in righteousness, that the man of God may be complete, thoroughly equipped for every good work" (2 Tim. 3:16-17). We can know what kind of work the church should collectively perform and we can know what kinds of works that we, as individuals, are responsible for carrying out in our lives because the Scriptures provide that information for us. Each of us needs to study the Scriptures daily so that we will be equipped to do those things that are pleasing to God.
It Will Enable You to Teach Others
Jesus instructed His apostles following His resurrection, saying, "Go into all the world and preach the gospel to every creature. He who believes and is baptized will be saved; but he who does not believe will be condemned" (Mark 16:15-16). Nothing in this world is more important than receiving forgiveness of sins from the Lord and becoming one of His people. One of the basic problems with bringing the lost to salvation is that you can only teach someone else that which you already know yourself. Paul instructed Timothy, saying, "Be diligent to present yourself approved to God, a worker who does not need to be ashamed, rightly dividing the word of truth" (2 Tim. 2:15). Just like Timothy, we will need to put forth the effort to study and learn the word of God ourselves so that we will be equipped for the work of teaching others. You can't give someone a Bible answer if you don't know what the Bible says. How many opportunities to help lost souls come to salvation have been squandered because we didn't study and prepare ourselves to teach others? Each of us needs to study the Scriptures daily to enable ourselves to bring lost souls out of darkness and into the light of the Lord.
Conclusion
The psalmist spoke to God, saying, "Your word is a lamp to my feet and a light to my path" (Ps. 119:105). By studying and applying God's word, we can know that we are following the right path in life. If we ignore our need for Bible study, then we will stumble in the darkness and follow the path the world has set before us. May we resolve to study the Scriptures daily so that we can please the Lord.
Sources
"Study." Merriam-Webster. https://www.merriam-webster.com/dictionary/study.

Author Bio: David has been working with the Hebron Lane church of Christ in Shepherdsville, KY since 2016. He and his wife, Cynthia, have been blessed with six children. The church website is hebronlane.com. He can be reached at ddann1@hotmail.com.

— Via Truth Magazine, Volume 63, No. 1, January 2019

https://truthmagazine.com/kindle/2019/2019-01-jan/08_Monthly_Theme_Lesson_03.htm

——————–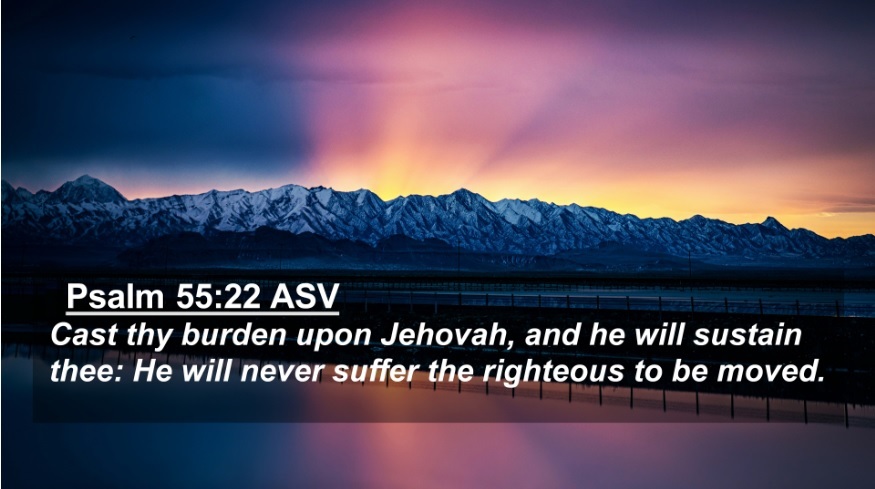 -2-

And take…the sword of the Spirit, which is the word of God." (Eph. 6:17)
Sword Tips #31
Joe R. Price
"Trust in Him at all times, you people; Pour out your heart before Him; God is a refuge for us." (Psalm 62:8)

One of the magnificent qualities of God is his complete trustworthiness. He is always present to hear and to respond in love to cries of help from his people.

God hears and answers the prayers of his children. Do not hesitate to pour out your heart to the Lord; He is a "very present help in trouble" (Psa. 46:1).

Whatever storm you face today, put your faith in him.

He will never leave you or forsake you.
——————–
The Steps That Lead to Eternal Salvation
1) Hear the gospel — for that is how faith comes (Rom. 10:17; John 20:30-31).
 
2) Believe in the deity of Jesus Christ, the Son of God (John 8:24; John 3:18).

3) Repent of sins.  For every accountable person has sinned (Romans 3:23; Romans 3:10), which causes one to be spiritually dead (Ephesians 2:1) and separated from God (Isaiah 59:1-2; Romans 6:23). Therefore, repentance of sin is necessary (Luke 13:5; Acts 17:30).  For whether the sin seems great or small, there will still be the same penalty for either (Matt. 12:36-37; 2 Cor. 5:10) — and even for a lie (Rev. 21:8).

4) Confess faith in Christ (Rom. 10:9-10; Acts 8:36-38).

5) Be baptized in water for the remission of sins (Mark 16:16; Acts 2:38; 22:16; 1 Pet. 3:21).  This is the final step that puts one into Christ (Gal. 3:26-27).  For from that baptism, one is then raised as a new creature (2 Cor. 5:17), having all sins forgiven and beginning a new life as a Christian (Rom. 6:3-4). For the one being baptized does so "through faith in the working of God" (Col. 2:12). In other words, believing that God will keep His word and forgive after one submits to these necessary steps. And now as a Christian, we then need to…

6) Continue in the faith by living for the Lord; for, if not, salvation can be lost (Matt. 24:13; Heb. 10:36-39; Rev. 2:10; 2 Pet. 2:20-22).
——————–
Tebeau Street
CHURCH OF CHRIST
1402 Tebeau Street, Waycross, GA 31501
Sunday: 9 a.m. Bible Classes and 10 a.m. Worship Service.   Congregational Song Service: 5 p.m. for every first Sunday of the month.
Wednesday: 7 p.m. Bible Classes
evangelist/editor: Tom Edwards (912) 281-9917
Tom@ThomasTEdwards.com

https://thomastedwards.com/go/all.htm (This is a link to the older version of the Gospel Observer website, but with bulletins going back to March 4, 1990.)