"Go therefore and make disciples of all the nations…teaching them to observe all that I commanded you; and lo, I am with you always, even to the end of the age" (Matthew 28:19-20, NASB).
Contents:

1) Complaining (George Slover)
2) A Father's Greatest Sermon (Anonymous)
3) What Is A Brother In Christ? (Bill Crews)
4) Prejudice Against the Bible (Bob Buchanon)
5) What Is Jesus to You? (Anonymous)
6) Developing Moral Excellence (video sermon, Tom Edwards)
7) News & Notes
——————–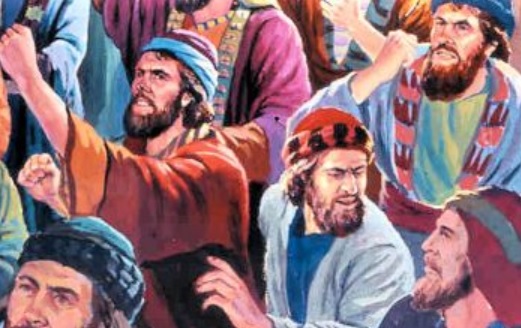 -1-
Complaining
George Slover

"Now the mixed multitude who were among them yielded to intense craving; so the children of Israel also wept again and said: "Who will give us meat to eat? We remember the fish which we ate freely in Egypt, the cucumbers, the melons, the leeks, the onions, and the garlic; but now our whole being is dried up; there is nothing at all except this manna before our eyes!" (Numbers 11:4-6)

Scenes of this chapter provide a glimpse of the pathetic character of Israel. Their constant grumbling is a source of extreme irritation for Moses, their leader. (Vs.11) "Manna, manna, all we have is a manna!" Could this same kind of dissatisfaction be found in our hearts?

It is first worth noting just where the sin began. A "mixed multitude" or foreigners were living among the people of God. A cry among these aliens seems to incite a rebellion among the Israelites. Thus, the danger of listening to the counsel of friends of the world, especially when one's faith and commitment are challenged.

The Israelites had forgotten all that God had done for them. They do remember the manna, only to grumble about it. They are mindful of the delicacies of Egypt, but have they forgotten how they were treated in bondage? Their exaggerated language: "our whole being is dried up"; "we have nothing," reveals much about their ungrateful heart. Jesus has conquered sin and death, yet how easy it is for us to complain about matters far less important.

And so the people demanded flesh, and God gave them flesh beyond their request. They get their desire, but not God's blessing. One must be careful to become impatient with our real or imagined hardships. What we receive may not offer the pleasure that we are looking for.

To avoid the dangers of such thanklessness, we must take our eyes off the pleasures offered by the world. We must flee these harmful lusts, and turn our hearts to pursue heavenly objects. We must make the Father's business the main thing, and pray: "Father, thy will be done on earth as it is in heaven."

— Via The Burnet Bulletin, March 28, 2021
——————–

-2-
A Father's Greatest Sermon
The farmer and his family, after a hard year of typical farm work, were rewarded with an unusually fine crop of grain. There were happy days ahead.

Just a few days before harvest came a terrible wind and hail storm. The entire crop was destroyed! After the storm was over, the farmer, with his wife and little boy at his side, went out to the back porch to view the field and the damage.

The little boy looked at what was formerly a beautiful field of wheat, and tearfully looked up at his dad expecting to hear words of despair.

All at once his father started to sing softly, "Rock of Ages, cleft for me, let me hide myself in thee…" Years later, the little boy now grown said, "That was the greatest sermon I have ever heard."

The farmer had lost a grain crop, but because of his faith, manifested in great trial, he had gained forever for the Lord the soul of his son. The son saw the faith of a godly man in practice!

— Anonymous, via Seeking Things Above, August 9, 2017
——————–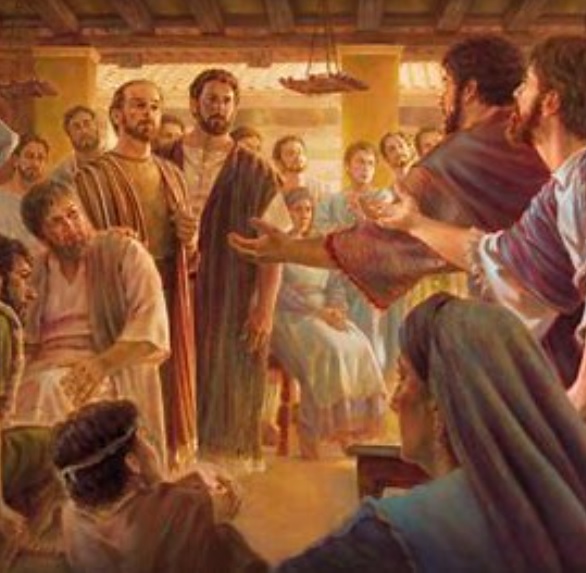 -3-
What Is A Brother In Christ?
Bill Crews

1. Another child of your Father in heaven. In nearly all of his epistles Paul spoke of "God, our Father" (Romans 1:7; 1 Corinthians 1:3; 2 Corinthians 1:2; Galatians 1:4; Ephesians1:2; Philippians 1:2; Colossians 1:2; 1 Thessalonians 1:2; 2 Thessalonians 1:2; 1 Timothy 1:2; Philemon 3), and thus acknowledged these brethren as children of his Father in heaven.

2. A brother to your Lord. "And say to them, I ascend unto my Father and your Father" (John 20:17). "For both he that sanctifieth (Christ, BC) and they that are sanctified (the saved, BC) are all of one (the Father); for which cause he is not ashamed to call them brethren" (Hebrews 2:11).

3. A brother for whom Christ died. "For through thy knowledge he that is weak perisheth, the brother for whose sake Christ died" (1 Corinthians 8:11).

4. Someone who is so related to Christ that if you assist in time of need, you will be also ministering to Christ. "And the King shall answer and say unto them, Verily I say unto you, Inasmuch as ye did it unto one of these my brethren, even these least, ye did it unto me" (Matthew 25:40).

5. Someone who is so related to Christ that if you sin against him or her, you also sin against Christ. "And thus, sinning against the brethren, and wounding their conscience when it is weak, ye sin against Christ" (1 Corinthians 8:12).

6. Someone you love and who loves you to the extent that men are convinced that you are disciples of Christ. "By this shall all men know that ye are my disciples, if ye have love for one another" (John 13:35).

7. Someone you love with a love that is abounding. "We are bound to give thanks to God always for you, brethren, even as it is meet, for that your faith groweth exceedingly, and the love of each one of you all toward one another aboundeth" (2 Thessalonians 1:3).

8. Someone you are willing to lay down your life for. "Hereby know ye love, because he laid down his life for us; and we ought to lay down our lives for the brethren" (1 John 3:16).

9. Someone for whom you would forego any personal liberty lest you cause him or her to violate his or her conscience and sin. "Wherefore, if meat causeth my brother to stumble, I will eat no flesh for evermore, that I cause not my brother to stumble" (1 Corinthians 8:13).

10. One you should rejoice with when he is honored and suffer with when he suffers. "And whether one member suffereth, all the members suffer with it; or one member is honored, all the members rejoice with it" (1 Corinthians 12:26).

— Via Roanridge Reader, Volume 36 Issue 27, Page 2
——————–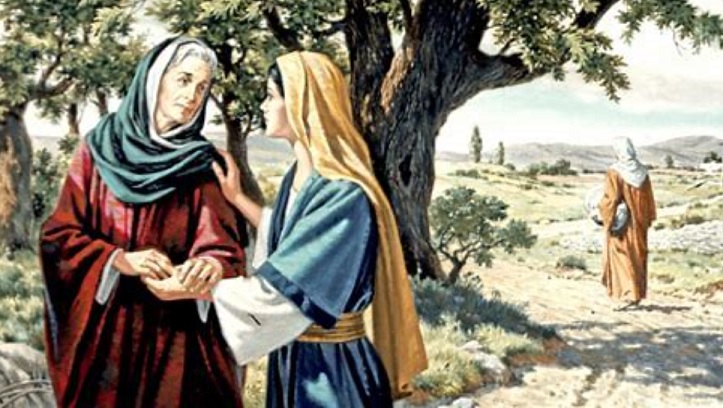 -4-
Prejudiced Against the Bible
While serving as our ambassador to France, Benjamin Franklin joined a literary society. Such societies were common and numerous in France, but they were filled with infidels. Urged on by his quaint sense of humor, Mr. Franklin joined the most prominent of these societies. It was the custom of this group to have each member write an original story to be read to the society and then have the members criticize the story. Mr. Franklin copied by hand the French translation of the entire book of Ruth from the Bible.

He met with the society at the appointed time and anxiously awaited the time for him to read his story. In warm and sympathetic tones he read this great love story.

For a few minutes there was absolute silence, as the audience sat under the spell of the beautiful love story. Then some member began to applaud. When the chairman of the meeting said that it was the only perfect love story the world had ever heard, the society requested permission to print it.

Mr. Franklin then said: "This story has already been printed and given to the world. You will find it in the Bible: the book you profess to despise, but about whose contents you apparently know so little."

— Bob Buchanon, via The Beacon, July 4, 2021
——————–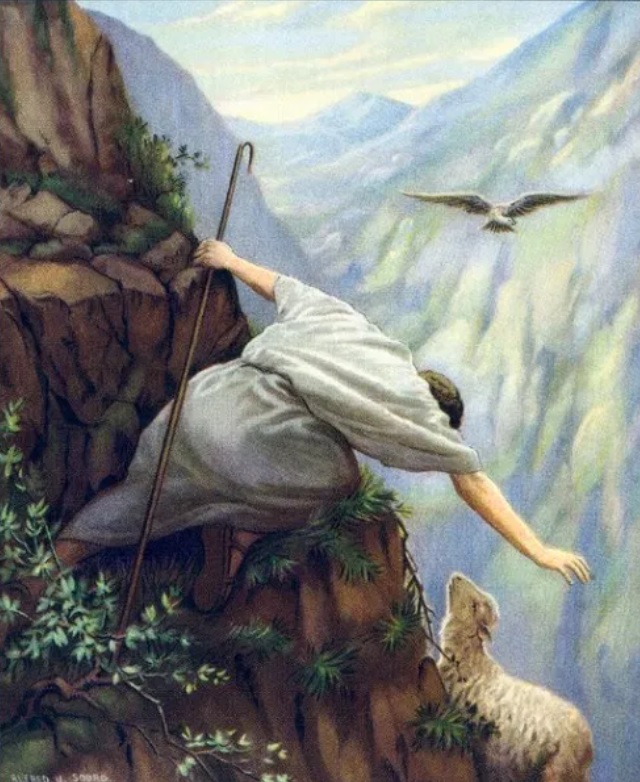 -5-
What Is Jesus to You?
To the artist He is the One Altogether Lovely.
To the architect He is the chief cornerstone,
To the baker He is the Living Bread.
To the banker He is the Hidden Treasure.
To the biologist He is the Life.
To the builder He is the Sure Foundation,
To the doctor He is the Great Physician.
To the educator He is the Great Teacher.
To the farmer He is the Lord of the Harvest.
To the florist He is the Rose of Sharon, the Lily of the Valley.
To the geologist He is the Rock of Ages.
To the jurist He is the Righteous Judge, the Judge of all men.
To the jeweler He is the Pearl of Great Price.
To the lawyer He is the Counselor, the Lawgiver, the Advocate.
To the horticulturist He is the True Vine.
To the newspaper man He is the Good Tidings of Great Joy.
To the oculist He is the Light of the World.
To the philanthropist He is the unspeakable Gift.
To the philosopher He is the Wisdom of God.
To the preacher He is the Word of God.
To the sculptor He is the Living Stone,
To the servant He is the Good Master.
To the statesman He is the Desire of All Nations.
To the student He is the Incarnate Truth.
To the theologian He is the Author and Finisher of Our Faith.
To the traveler He is the New and Living Way.
To the toiler He is the Giver of Rest.
To the sinner He is the Lamb of God that takes sin away.
To the Christian He is the Son of the Living God, Savior, and Redeemer.

— Via Bulletin Fodder
——————–
-6-
Developing Moral Excellence
Tom Edwards

To play the video sermon with the above title, just click on the following link while on the Internet:

https://thomastedwards.com/wordpress/Moral_Excellence.mp4

——————–
-7-
News & Notes
Michael Rittenhouse began having chest pains, nausea, and numbness down his left arm on Monday. 

Andrew Wright, with stage 2 lung cancer, will begin chemo this week.

Deborah Medlock will have a procedure this Thursday (July 15) for the implant of a neurostimulator to alleviate pain she has been having. It will be a temporary one; but if it works, they will then replace it permanently.

Bennie Medlock will have cataract surgery for his left eye August 16, and September 20 for the right.

Also for prayer: Jeff Nuss (with serious injuries); the family and friends of Judy Daugherty; Rick Cuthbertson (cancer), Nell Teague (cancer), and Rex Hadley (rehab); And our shut-ins: A.J. & Pat Joyner, Jim Lively, and Shirley Davis
——————–
The Steps That Lead to Eternal Salvation
1) Hear the gospel — for that is how faith comes (Rom. 10:17; John 20:30-31).

2) Believe in the deity of Jesus Christ (John 8:24; John 3:18).

3) Repent of sins. For every accountable person has sinned (Romans 3:23; Romans 3:10), which causes one to be spiritually dead (Ephesians 2:1) and separated from God (Isaiah 59:1-2; Romans 6:23). Therefore, repentance of sin is necessary (Luke 13:5; Acts 17:30). For whether the sin seems great or small, there will still be the same penalty for either (Matt. 12:36-37; 2 Cor. 5:10) — and even for a lie (Rev. 21:8).

4) Confess faith in Christ (Rom. 10:9-10; Acts 8:36-38).

5) Be baptized in water for the remission of sins (Mark 16:16; Acts 2:38; 22:16; 1 Pet. 3:21). This is the final step that puts one into Christ (Gal. 3:26-27). For from that baptism, one is then raised as a new creature (2 Cor. 5:17), having all sins forgiven and beginning a new life as a Christian (Rom. 6:3-4). For the one being baptized does so "through faith in the working of God" (Col. 2:12). In other words, believing that God will keep His word and forgive after one submits to these necessary steps. And now as a Christian, we then need to…

6) Continue in the faith by living for the Lord; for, if not, salvation can be lost (Matt. 24:13; Heb. 10:36-39; Rev. 2:10; 2 Pet. 2:20-22).
——————–
Tebeau Street
CHURCH OF CHRIST
1402 Tebeau Street, Waycross, GA 31501

We are currently meeting for only our Sunday 10 a.m. worship service each week, due to the coronavirus situation.

evangelist/editor: Tom Edwards (912) 281-9917
Tom@ThomasTEdwards.com

https://thomastedwards.com/go/all.htm/ (This is a link to the older version of the Gospel Observer website, but with bulletins going back to March 4, 1990.)