"Go therefore and make disciples of all the nations…teaching them to observe all that I commanded you; and lo, I am with you always, even to the end of the age" (Matthew 28:19-20, NASB).
——————–
Contents:

1) A Fire Shut Up in My Bones (Connie W. Adams)
2) Be Steadfast, Immovable (Joe R. Price)

——————–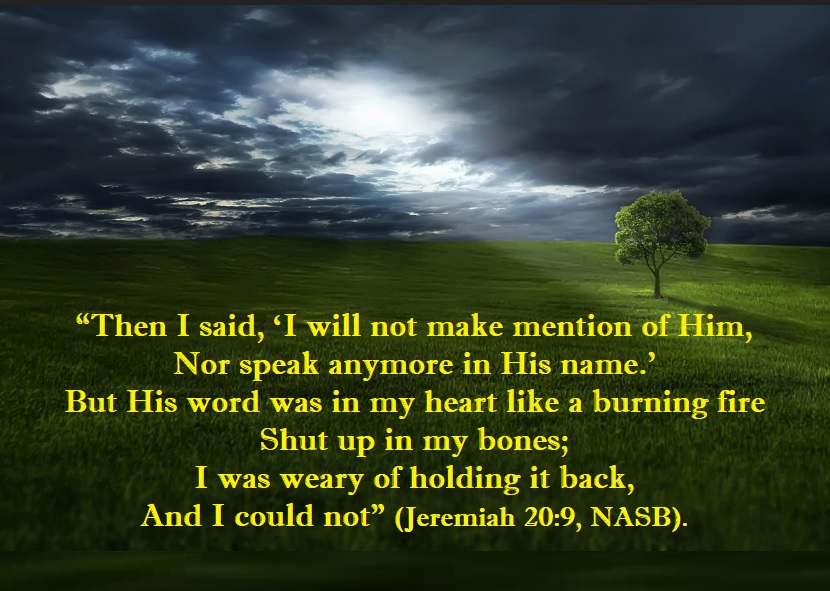 -1-
A Fire Shut Up in My Bones
Connie W. Adams

Jeremiah was a reluctant prophet from the start. When the Lord told him that he had ordained him a prophet before he came forth from the womb, Jeremiah said, "Ah, Lord God! Behold I cannot speak, for I am a youth" (Jer. 1:6). The Lord reassured him, "Do not say, 'I am a youth,' For you shall go to all to whom I send you, and whatsoever I command you, you shall speak. Do not be afraid of their faces, for I am with you to deliver you says the Lord" (Jer. 1:7-8). Prodded by these assurances, Jeremiah began his work.

It was a troublesome time. The kingdom of Judah had followed the same crooked trail marked out over 100 years before by the northern kingdom. Judah had a few good kings (like Josiah), but then Manasseh came on the scene and practiced human sacrifice. "He made his son to pass through the fire, and observed times, and used enchantments, and dealt with familiar spirits and wizards: he wrought much wickedness in the sight of the Lord, to provoke him to anger" (2 Kings 21:6). The warnings of earlier prophets had been ignored. God had used Assyria as a chastening rod to punish idolatrous Israel. But Judah refused to learn this lesson of history. Now the Babylonians were poised and ready to desolate the land and remove its hapless citizens from their own land and scatter them throughout the Babylonian empire.

Jeremiah's message was not pleasant to hear. It spoke of desolation and destruction. He shouted "violence and plunder," but they did not want to hear it. Moreover, they took out their anger on the prophet. First they tried to ignore him and then they mocked him and later openly persecuted him. So the discouraged prophet had enough. He said, "O Lord, You induced me, and I was persuaded; You are stronger than I, and have prevailed. I am in derision daily; Everyone mocks me. For when I spoke, I cried out: I shouted 'Violence and plunder!' Because the word of the Lord was made to me a reproach and a derision daily. Then I said, 'I will not make mention of Him, nor speak anymore in His name.' But His word was in my heart like a burning fire shut up in my bones; I was weary of holding it back, and I could not" (Jer. 20: 7-9).

Here was a man ready to quit. What was the use of continuing to prophesy to an indifferent people. They were headed for captivity and he could not stop it. Besides that, who wants to be scorned for simply delivering the Lord's message? But how could he quit? The message he had been given to declare was not his but the Lord's. That word had not been placed in him to hold it to himself. He said, "when I tried to hold back, it was like a raging fire" shut up in his bones and he just had to speak.

While none of us these days are prophets in the sense Jeremiah was, we need preachers with a fire in them that will not be quenched. The apostles of our Lord hazarded their lives for the cause of the Lord. Neither beatings, threats, nor prison walls could silence them. They had a commission, a charge. Duty called and they had to answer. "We have this treasure in earthen vessels" (2 Cor. 4:7). The treasure was the light of divine inspiration that God had "shined" in their hearts (v. 6). They were the vessels and the light was the treasure. They had to speak. Paul said, "we believe and therefore speak" (2 Cor. 4:13). The "fire" in these men changed the course of civilization.

There were other preachers and Christians in the first century who would not be silenced. "Then Phillip went down to Samaria and preached Christ unto them" (Acts 8:5). He was on fire with the gospel. Think of Timothy, Titus, Aquila and Priscilla, those noble men and women whom Paul described as "fellow helpers to the truth." Think of the persecuted saints in Jerusalem who were scattered but still "went everywhere preaching the word" (Acts 8:4).
Duty Demands That We Speak
Evangelistic efforts have been criticized in recent times because "religion ought to be a private thing." Even presidential candidates have been objects of ridicule because they openly expressed their faith in Christ. One columnist after another has opined that "religion is a private thing." But they just don't get it. Whether these who have professed faith in the Lord have truly obeyed his will is a question of great importance. But one thing I know — true Christians are under orders. We cannot be true to our Lord and remain silent about the gospel. The good news must be told. "Faith comes by hearing and hearing by the word of God" (Rom. 10:17). The spirit of evangelism is the very life blood of the church. The church is "the pillar and ground of the truth" (1 Tim. 3:15). The church at Thessalonica "sounded out the word of the Lord" (1 Thess. 1:8). They were aflame with the gospel.

And what of us? Can we afford to hold back when the world around us is marching straight into Hell? There are wars and rumors of wars. Immorality in high places is the order of the day. Where will the next school shootings take place? How many more times must we watch as the "experts" wring their hands and try to explain to us why these things happen? Divorce keeps on tearing families apart. Fornication, alcohol, drugs, stealing, lying, and murder are commonplace. What is the answer?

"For I am not ashamed of the gospel of Christ, for it is the power of God to salvation for everyone who believes, for the Jew first and also the Greek. For in it the righteousness of God is revealed from faith to faith; as it is written. 'The just shall live by faith'" (Rom. 1:16-17). Here is the remedy for every sin.

Now, whose work is it to make known the remedy? Men are starving for want of spirit­ual food. Are we not compelled to direct them to the "bread of life"? People are thirsting, shall we not lead them to "the water of life"? The world is stumbling in darkness, shall we hide our light under a basket? Can we not tell them of the "light of the world"? Knowing that those who know not God and obey not the gospel shall be lost eternally, can we hold back and not warn them of the wrath to come? "Knowing the terror of the Lord, we persuade men" (2 Cor. 5:11).

"But Lord, you know I am timid. I don't know what to say or how to start. Besides others can do that much better than me." Even some preachers are known to say "Well, I am better in the pulpit than in a one-on-one situation." Don't forget that Paul taught "publicly and from house to house" (Acts 20:20).

What preacher has not faced discouragement after preaching his heart out only to see sinful people turn a deaf ear or at worst persecute the preacher. How many have called it quits when opposition arose? How many have been sidetracked into business pursuits so they would not be a "burden on the brethren" when the real problem was that the fire went out.

God grant that all of us may have a raging inferno shut up in our bones so that we have to speak to others the saving message of the gospel. Time flies. What are we waiting for?

— Via Truth Magazine Vol. XLIV: 4 p3 February 17, 2000,                                            
https://www.truthmagazine.com/archives/volume44/V44021703.htm

——————–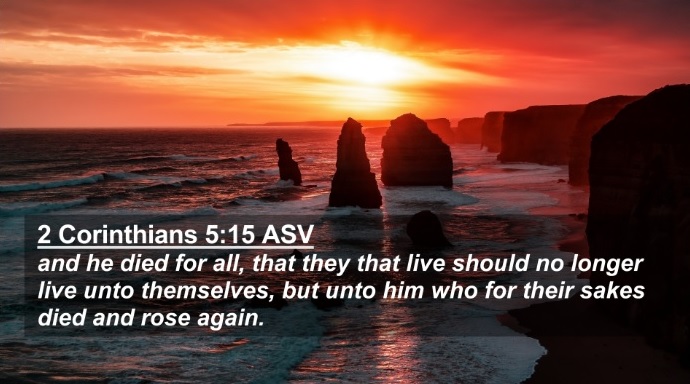 -2-
Be Steadfast, Immovable
Joe R. Price

"Therefore, my beloved brethren, be steadfast, immovable, always abounding in the work of the Lord, knowing that your labor is not in vain in the Lord" (1 Corinthians 15:58).

The Corinthian church had problems. Every church does. That's because every church is composed of sinners, redeemed by the blood of the Lamb. We struggle with temptations and sins, with our faith and our failings. Christians in every congregation must address weakness and weariness, responsibilities and relationships, and much more (Rom. 12:3-21). Paul exhorted the Corinthian brethren to remain true to the Lord as they faced spiritual challenges from within themselves and from the world without.

Like them, we must be "steadfast" (settled, firmly situated) in our faith. The roots of our faith must run deep within us, anchored by the word of God, in order for spiritual growth to flourish. By building our personal faith we become stabilized, standing firmly in the faith, and able to resist the enticements of sin (Col. 2:7; James 1:14). By such steadfastness we become "immovable" (unmoved) against the external forces of error and evil (Col. 2:8; Eph. 4:14-16; 1 Pet. 4:1-3). (Remember, the devil is always probing for our vulnerabilities, 1 Pet. 5:8.)

Spiritual stability enlivens our duty ("work") in the Lord with purpose, devotion, endurance, and fullness. Our incentive to fulfill our duty to the Lord is clear — our labor is not useless in the Lord. A full, everlasting harvest awaits the faithful (Gal. 6:7-8).

— Via Articles from the Knollwood church of Christ, December 2019

——————–
The Steps That Lead to Eternal Salvation
1) Hear the gospel — for that is how faith comes (Rom. 10:17; John 20:30-31).

2) Believe in the deity of Jesus Christ, the Son of God (John 8:24; John 3:18).

3) Repent of sins.  For every accountable person has sinned (Romans 3:23; Romans 3:10), which causes one to be spiritually dead (Ephesians 2:1) and separated from God (Isaiah 59:1-2; Romans 6:23). Therefore, repentance of sin is necessary (Luke 13:5; Acts 17:30).  For whether the sin seems great or small, there will still be the same penalty for either (Matt. 12:36-37; 2 Cor. 5:10) — and even for a lie (Rev. 21:8).

4) Confess faith in Christ (Rom. 10:9-10; Acts 8:36-38).

5) Be baptized in water for the remission of sins (Mark 16:16; Acts 2:38; 22:16; 1 Pet. 3:21).  This is the final step that puts one into Christ (Gal. 3:26-27).  For from that baptism, one is then raised as a new creature (2 Cor. 5:17), having all sins forgiven and beginning a new life as a Christian (Rom. 6:3-4). For the one being baptized does so "through faith in the working of God" (Col. 2:12). In other words, believing that God will keep His word and forgive after one submits to these necessary steps. And now as a Christian, we then need to…

6) Continue in the faith by living for the Lord; for, if not, salvation can be lost (Matt. 24:13; Heb. 10:36-39; Rev. 2:10; 2 Pet. 2:20-22).
——————–
Tebeau Street
CHURCH OF CHRIST
1402 Tebeau Street, Waycross, GA  31501

Sunday: 9 a.m. Bible Classes and 10 a.m. Worship Service.  We also have a Congregational Song Service at 5 p.m. for every first Sunday of the month.
Wednesday: 7 p.m. Bible Classes
evangelist/editor: Tom Edwards (912) 281-9917
Tom@ThomasTEdwards.com

https://thomastedwards.com/go/all.htm/ (This is a link to the older version of the Gospel Observer website, but with bulletins going back to March 4, 1990.)